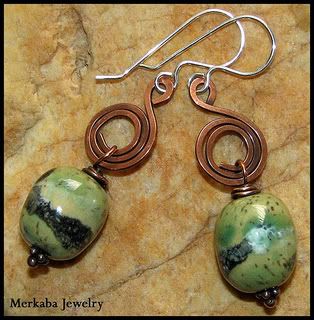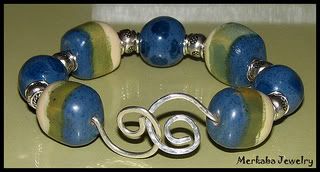 If you are familiar with my jewelry, then you probably know that I use a variety of beads in my work. Whether glass, crystal, metal, polymer clay, pearls, etc...I truly love them all. But, my favorite material has to be Kazuri clay beads. Kazuri means *small and beautiful* in Swahili and is the perfect description for these beads, which are handcrafted by people in Kenya, Africa. Kazuri is a member of the Fair Trade Organization and employs over 300 women who make, paint, and fire each bead by hand. Each one I use is authentic and represents a piece of Kenyan art and culture. To read more about the company and the bead-making process, visit KAZURI.

Most of my recent creations have included these beads in some fashion or another. Whether used in a bracelet, necklace, or pair of earrings, these beads really make a great conversation piece. It is a pleasure to work with these artful creations and in turn create my own wearable pieces of art. Made by women, for women :)

For more Kazuri bead creations, visit my Etsy shop!

If you have used Kazuri beads in your creations, please feel free to email me a photo or a link to your stuff! I'd love to put together an Etsy treasury featuring Kazuri works!