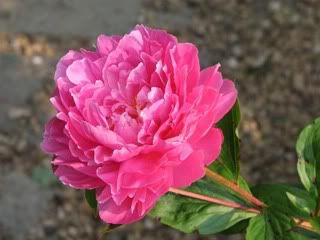 Wow! I can't believe it's been a week since I've updated Merkaba's Musings. We were out of town over Memorial Day Weekend for a much-needed break. Completely unplugged. No television, no computer, just relaxation! Now I'm back and, of course, behind in my normal routine. But that's okay.

This week's inspiration is *a watched pot never boils.* The above photo is of a beautiful peony that finally bloomed while away. For weeks we waited in anticipation as the buds formed on the plant. And waited, and waited, and waited! Any day now, we thought.

It was so nice to see them in bloom when we arrived home. Definitely worth the wait and a little lesson in patience!

Have a great week!